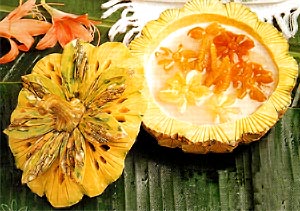 .
I LOVE THAI FOOD
! So, for me to say this is my favorite restaurant….. of any cuisine….. is saying something. The food at either location (there is also a location at 14 & Pelham) , is always "on Point". Our last trip was for a "date night" , so we went all out, ordering 3 courses!
We ordered the Sweet Basil rolls as an appetizer. They were delicious, especially when dipped in the brown dipping sauce. He ordered the Soft Shell Crab, and despite trying to find something else on the menu…. I was craving pad Thai. As usual the food was brought to us quickly and hot. You can tell that the kitchen staff, take great pride in what comes out those doors. The food is always very fresh! We decided on the Fried Banana with coconut ice cream. I can only describe this as the best banana split you will ever eat.
My only complaint is that I was so mesmerized by the unique video being played on the television screens in the dining area….. I'm afraid I might have been ignoring my man. Guess you'll just have to go there to see what I mean.
Sweet Basil @ Pelham : (864) 627-4151
Sweet Basil @ Haywood : (864) 297-4557
WWW.SweetBasilGreenville.com