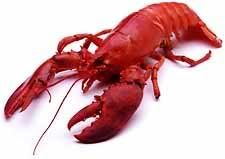 My Best friend was celebrating a milestone in his life yesterday. So to celebrate we all went out to dinner. When asked where he wanted to go (taking in to consideration his parents were dining with us, and the late hour), he decided on Red Lobster.
Not being a fan of seafood, I was sure that there would be at least one thing that I could order. I was wrong there were 3. Upon arriving, we were greeted by the hosted and seated in an almost empty restaurant. The waitress came about 5 minutes later and gave us menus. She returned shortly thereafter and wanted to take our dinner order we asked her to come back. Keep in mind we still hadn't ordered drinks. We had to prompt her to take our drink order and then waited 10-15 minutes for the drinks. I ordered The Grilled Chicken Entree. When the food came the small scoop of mashed potatoes was cold. By cold I don't mean it wasn't steaming hot. I mean the potatoes were COLD. I know that Red Lobster has been around for ages...... but why? In telling co-workers this morning about dinner last night, everyone was pretty much in agreeance. That the food and service at most locations is far less than acceptable.
The question my co-workers and I posed, and maybe one of you can answer for us....... "Why is Red Lobster always packed?